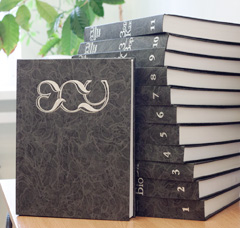 The Encyclopedia of Modern Ukraine (abbreviated EMU) is an academic national encyclopedia of Ukraine. Written in Ukrainian. A first edition has been in progress, but it has already become the most comprehensive paper encyclopedia on Ukraine to date.
Advisory Board (Main Editorial Board), editorial staff and authors
The Encyclopedia is co-edited by Ivan Dziuba, Arkadii Zhukovskyi, Oleh Romaniv, Mykola Zhelezniak. Assisted by V. Baranetskyi, V. Burkat, I. Hamkalo, V. Heiets, Ye. Holovakha, D. Horbachov, D. Hrodzynskyi, Ya. Isaievych, S. Kulchytskyi, I. Kuras, V. Lytvyn, V. Lisovyi, D. Makarenko, O. Marynych, M. Melnyk, O. Myshanych, V. Naulko, O. Onyshchenko, B. Paton, V. Pylypenko, L. Pyrih, V. Pokhodenko, I. Serhiienko, A. Shydlovskyi, A. Shpak, Ya. Yatskiv.
Written by over 6800 contributors (prominent scientists; professionals of archives, libraries, museums; proficients of sports associations, federations, creative associations, public organizations, etc.). Reviewed by about 30-40 affiliated topic experts per a volume.
All articles are ordered, edited and composed by editorial staff (10 people).
Project's mission and aim
The mission of the Encyclopedia is to collect, preserve and disseminate information on all aspects of Ukraine to provide a comprehensive reference work for historians, teachers, students, and others seeking to understand and appreciate Ukraine's heritage (it covers knowledge on Ukraine for the period from early 20th century to present). This is an important goal that has emerged since Ukraine gained independence, and when Ukrainian humanities began to promote the formation and the development of an independent Ukrainian nation, the liberation from Soviet ideology and the consolidation of state sovereignty.
Therefore, the strategic purposeful benefit of this Encyclopedia is associated with its impact on awareness and understanding of the national and socio-cultural self-identity of Ukrainian people who had long been under the influence of Soviet ideology.
So, the central project's aim is to suggest a reliable, authoritative reference source for all those interested in knowledge on people, society, culture, science, history, geography, and natural environment of Ukraine. The Encyclopedia offers articles on Ukraine's prominent people, historic events, ethnographic features, religion, sports, art, literature, language, science achievements, medicine, industry, government, cities, fauna and flora, rivers and lakes, climate, and so much more.
Print edition
Encyclopedia volumes started in 2001 and today continue to be compiling and publishing. 22 volumes of the EMU (out of 30) have now been printed. Due to the low level of funding the project lasts for years. However, strong point of the project is the involving of reliable affiliated contributors who are on the leading edge of their fields and highly competent to present knowledge on Ukraine in the encyclopedia format.
Online version
The EMU debuted online in October 2014 and still continues to be as a work in progress (list of articles is incomplete). All content on the online Encyclopedia is available free. It is now among the popular Ukrainian published sites, with about 200 thousand unique visitors per month, and over 2 million per year (it is a web traffic ranking analysis of 2020; visitors are getting more year after year). Articles on encyclopedia's website are organized by some themes: universe and earth, people, community, science and humanities, culture. The online format of the project lends itself to developing timely and relevant content for all users. Users have come from every continent, but the vast majority are naturally from Ukraine.